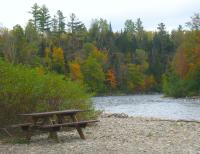 Location
Lymans Falls, NH
Columbia
,
NH
United States
44° 46' 38.7012" N, 71° 35' 41.8416" W
Site Description:
A rough gravel road through a small quarry leads to a picnic area and river access just below the breached dam at Lyman Falls in Columbia, NH
Directions:
Access is possible by following a farm road situated off Route 3, 2.3 miles north of the intersection of Rt 105 and Rt 3 in North Stratford. Drive through a gravel quarry, down a steep hill, and across a set of railroad tracks. Please note that this road can be rough. A parking area has been established near a kiosk - do not drive onto the beach!