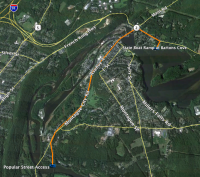 Locations
Put-in
Turner's Falls
,
MA
United States
42° 34' 48.0864" N, 72° 34' 30.5688" W
Takeout
Turner's Falls
,
MA
United States
42° 36' 27.3204" N, 72° 32' 33.072" W
More Info:
For the Barton Cove shuttle service, groups with more than four boats are asked to call one month in advance to plan ahead for portage dates. On most days, portages will be provided within 15 to 90 minutes of the boater's telephone call. Paddlers should have all gear unloaded and wait by their craft. More information on this service can be found here.