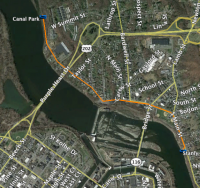 Locations
Put-in
South Hadley
,
MA
United States
42° 12' 37.6776" N, 72° 35' 26.7972" W
Take-out
MA
United States
42° 13' 24.5892" N, 72° 36' 32.7816" W
Site Description:
Take out on river left at Canal Park, about a 1/2 mile above the Rt 202 bridge.Walk through the park and down South Hadley's Main Street to the Stanly Berchulski Fisherman Access, 1.5 miles below the take-out.
More Info:
During the summer season, there is a dock at Canal Park. Otherwise the take-out is unmarked. Take-outs downstream are tempting, but they are on private land. Holyoke Gas and Electric offers a free shuttle service; call (413) 536-9461.