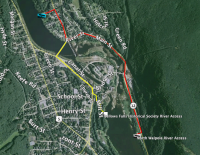 Location
Take-out
United States
43° 8' 30.3504" N, 72° 27' 5.6916" W
Site Description:
1.1-1.4 mile portage around dam in Bellows Falls, mostly on roads.
More Info:
Paddlers now have two options for portaging around the dam in Bellows Falls. Both originate at the Pine St. Launch on the New Hampshire side. Your options are to walk south on Route 12 to a put-in below the dam. It is about a 1.43 mile portage, mostly wheelable. Note shoulders and sidewalks are limited on Route 12.
An alternative option is to cross into Bellows Falls and follow Depot St. down to a put-in on land owned by the Bellows Falls Historical Society. This is about a 1.1 mile portage.